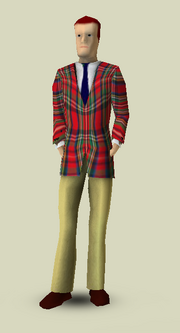 Arnold is a parody of the golfer, Arnold Palmer. He typifies the type of famous people who would be at a high class party. He shares his model with Flawn Tabawt, Ether van Trawn, R. Blain Pembrookeberton, John Revolta, and Mitchell S. Barney.
"Plaid", "Plaid Jacket"
Ad blocker interference detected!
Wikia is a free-to-use site that makes money from advertising. We have a modified experience for viewers using ad blockers

Wikia is not accessible if you've made further modifications. Remove the custom ad blocker rule(s) and the page will load as expected.