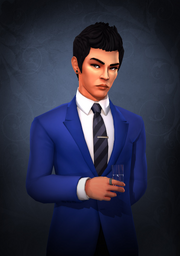 Dr. N is the temporary name of one of the new art style characters. He is the identical twin of Dr. M. They are young men with dark hair and somewhat ambiguously Asian features. They both wear blue blazers, white shirts, striped grey ties and dark pants. Dr. N is distinguished from his brother in that he wears earrings, a tie clip, and a ring on his right index finger. (His brother does not wear jewelry.) The SpyParty community refers to him as "Bling Twin." The internal game files call both him and his brother "Sam."
Ad blocker interference detected!
Wikia is a free-to-use site that makes money from advertising. We have a modified experience for viewers using ad blockers

Wikia is not accessible if you've made further modifications. Remove the custom ad blocker rule(s) and the page will load as expected.