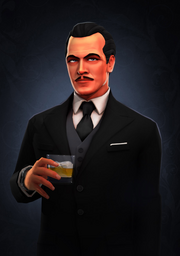 Mr. A is the temporary name of one of the new art style characters. He is a tall man with black, slicked-back hair and a pencil moustache. He wears a black suit with a white pocket square, a grey vest, and white shirt with a black tie, and a watch on his right wrist.
The character is named "Bond" in the game files, but due to copyright concerns, that is unlikely to be the final name. The SpyParty community often refers to him as "Pencil 'Stache" or "Walt Disney."
In the new UI reveal cast, Mr. A's dossier was shown. It says that he was born on 13 December 1965 in Kilkenney, Ireland, and that he is a "billionaire playboy." It also states that he loves sculpture, avoids crowds, and enjoys cocktails. These details have been purged from the current version of the game, and it is unknown if they will change before the dossiers feature is released.