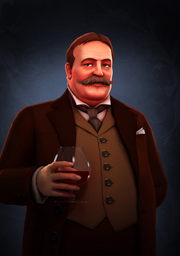 Mr. C is the temporary name of one of the new art style characters. He is a short, stocky man with brown hair and an impressive handlebar mustache. He wears a brown suit with a white pocket square, a tan vest, white shirt and grey tie, along with a gold pocket watch under his jacket.
He has been nicknamed "Taft" by the SpyParty community, due to his resemblance to United States president William Howard Taft. The internal game files, however, call him "Banker." Mr. C's portly stature makes it easier for his body to be used to hide certain actions from the sniper.
Ad blocker interference detected!
Wikia is a free-to-use site that makes money from advertising. We have a modified experience for viewers using ad blockers

Wikia is not accessible if you've made further modifications. Remove the custom ad blocker rule(s) and the page will load as expected.