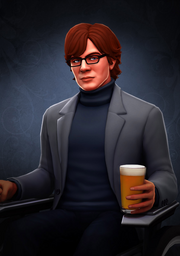 Mr. I is the temporary name of one of the new art style characters. He is notable for being seated in a wheelchair, resulting in his body being positioned lower than most other characters. He is a Caucasian man with reddish-brown hair and blue eyes. He wears a light grey jacket, a dark blue turtleneck sweater, and dark pants.
The SpyParty community sometimes calls him "Wheels" or "Xavier" (referring to Charles Xavier of X-Men), while others have called him "Steve Jobs" due to his characteristic turtleneck sweater, or simply "Turtleneck." The internal game files, however, call him "Victor."
Ad blocker interference detected!
Wikia is a free-to-use site that makes money from advertising. We have a modified experience for viewers using ad blockers

Wikia is not accessible if you've made further modifications. Remove the custom ad blocker rule(s) and the page will load as expected.