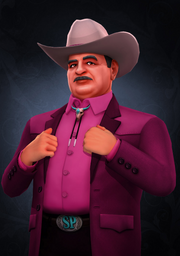 Mr. P is the temporary name of one of the new art style characters. He is a somewhat heavyset man of Latino heritage, sports a mustache, and is dressed like a Texan oil magnate. He has dark hair, although it is mostly covered up by his large white cowboy hat, which gives him a very distinct silhouette. He wears a two-tone magenta jacket, a bright magenta shirt dark pants and a bolo tie of a cattle skull with cyan accents. His large belt buckle bears two large cyan letters: "SP." These are presumably his initials, but they're likely a reference to SpyParty itself. The community has referred to him as "Cowboy" or "Señor Taft" (drawing a parallel to Mr. C due to his portly stature), although the internal game files call him "Salvador."
Ad blocker interference detected!
Wikia is a free-to-use site that makes money from advertising. We have a modified experience for viewers using ad blockers

Wikia is not accessible if you've made further modifications. Remove the custom ad blocker rule(s) and the page will load as expected.