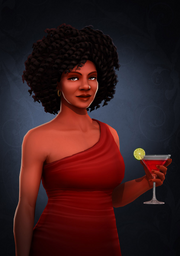 Ms. H is the temporary name of one of the new art style characters. She is a tall woman of African descent who is notable for her large frizzy hairstyle, giving her head a unique silhouette. She wears a red evening dress with a strap on her left shoulder and gold hoop earrings.
She is nicknamed "Hair" by some SpyParty players, while others call her "Oprah." (The internal game files call her "Michelle," possibly for Michelle Obama.)
Ad blocker interference detected!
Wikia is a free-to-use site that makes money from advertising. We have a modified experience for viewers using ad blockers

Wikia is not accessible if you've made further modifications. Remove the custom ad blocker rule(s) and the page will load as expected.