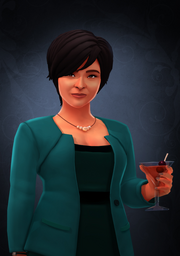 Ms. R is the temporary name of one of the new art style characters. She is described by Jessica Conditt of Engadget as "a businesswoman with short brown hair" which is very dark, almost black. She wears a blue-green jacket over a dark green dress with black accents, and a thin gold necklace with five pearls. The internal game files call her "Danielle."
Ad blocker interference detected!
Wikia is a free-to-use site that makes money from advertising. We have a modified experience for viewers using ad blockers

Wikia is not accessible if you've made further modifications. Remove the custom ad blocker rule(s) and the page will load as expected.