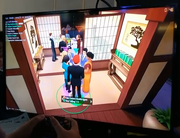 Teien
(pronounced /TEY-en/, meaning "garden" in Japanese) is an unreleased SpyParty
map
. Its existence was revealed at PAX 2018, where it was playable at the SpyParty booth. It appears to be a small, pagoda-like structure with shōji dividers. The position of these dividers is randomized at start, resulting in four possible configurations. Guests can be seen in silhouette through the dividers, and highlighted or lowlighted guests have silhouettes which are slightly lighter or darker. The map also features two bookshelves, two groups of three statues each, and two conversation circles.
A video
of the map being played at PAX 2018 was posted to the
SpyParty Fans YouTube channel
.